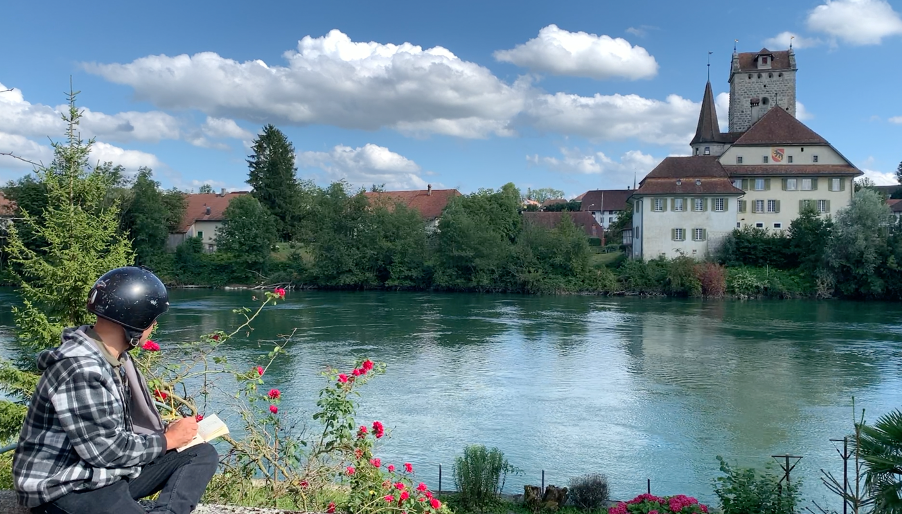 On the banks of the swift-flowing Aare River, at the meeting point of the cantons of Berne, Solothurn and Aargau, by the historic castle of Aarwangen, in a historic old corn house, is one of Switzerland's oldest distilleries, Langatun.
Langatun is the Celtic name for the nearby village of Langenthal, the origins of which go back to the year 861, and means the 'fortified place on the water'. In 1857, after graduating in brewing in Munich, Jakob Baumberger came home and set up a distillery in his father's brewery. Jakob expanded operations by buying the local brewery in Langenthal, and laying down a pipe to bring water from a spring 2 km away.
Between 1903 and 1983, three generations of Hans Baumberger – Hans I, Hans II and Hans III – successively ran the family business. Grain distilling stopped between 1939 and 1999 due to a wartime law on the use of grain for distilling, that somebody must have forgotten to repeal, after which the modern Langatun Distillery was born.
I'm met at the door by the CEO and part owner, Chris Lauper, who is not related to the now retired Hans III, but he is, I am reliably informed (by himself) a distant relation of the singer Cindy Lauper.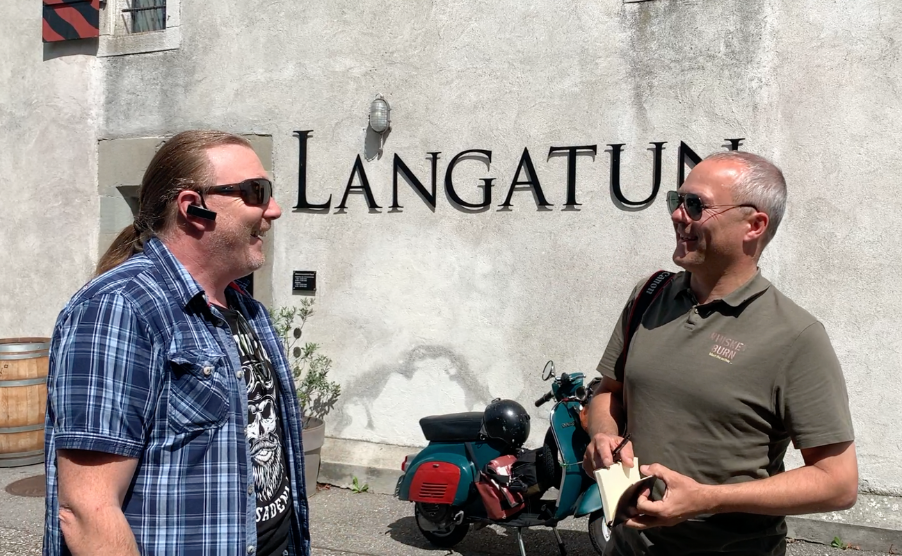 Chris bought into the distillery, learned to distil from and Hans III, and when Hans retired Chris became CEO. In 2014, the distillery moved into the historic 'Kornhaus' in the village of Aarwangen. 21 people work at Langatun now, and so Chris can concentrate on marketing and design, and leave the distilling up to the production team.
The mash is brought in from a local brewery, matured here and double distilled in three stills made by Holstein on Lake Constance – actually, Langatun whisky is two-and-a-half-times distilled, Chris explains, as a proportion of the run is always distilled again. The wash still was bespoke designed to mirror the lantern style common in Scotland and Ireland, while the spirit still and smaller auxiliary spirit still are standard schnapps stills with plates that can alter the distillation, but these are not used for the whisky. Instead, they are opened up to be used as a traditional pot still, leading unobstructed up and over the lyne arm into the condenser and out as distilled spirit to be transferred into oak casks.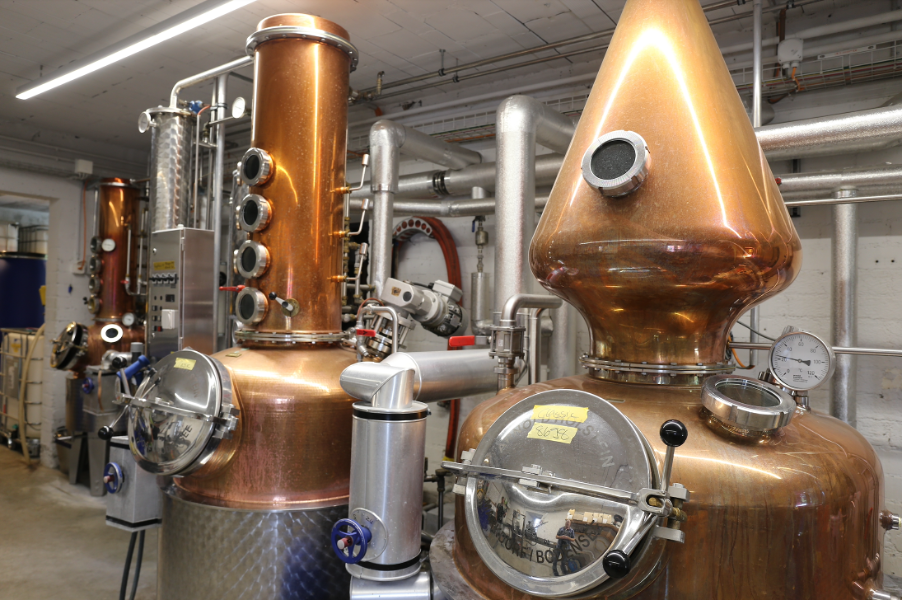 Maturation is done in a cavernous warehouse in Langenthal that delves four floors deep into the earth. Everywhere you turn are alcoves filled with sleeping barrels that in the past were used for wine storage. Age-wise, Langatuns may not be on a par with some of the older Scottish whiskies, but there are casks which have been over a decade here, and a few teenagers. They even have a resident ghost, Chris tells me, called 'Langatunli', who keeps the other spirits in order so that they only take about 3% of the whisky as their angels' share.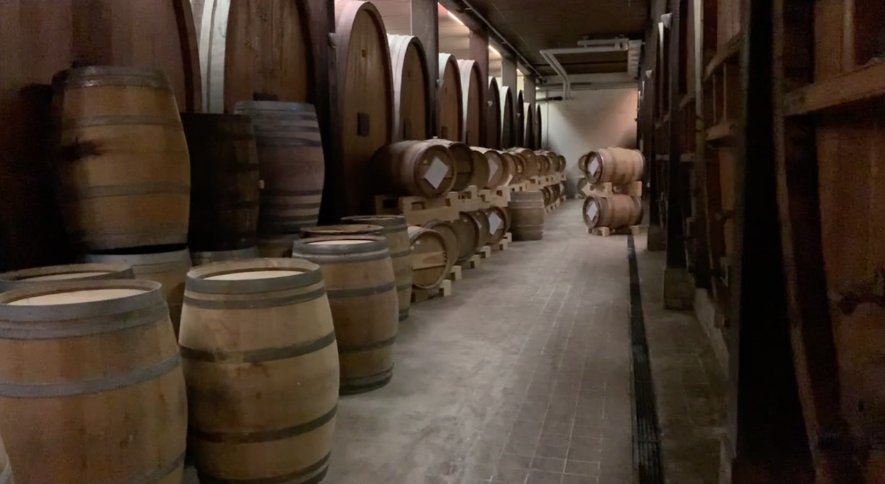 Interestingly, Langatun only matures in wine casks, and unlike the Scottish and Irish whiskies primarily matured in sherrywood or ex-bourbon, most spirit here is matured exclusively in wine casks – pinot noir, marsala, chardonnay, various red or white wine, and sometimes finished in third-fill casks for that extra-complexity.
Filling around 50,000 bottles a year, always 50 cl and always at 49.12 % - Why? Well, the post code of the distillery is, coincidentally or not, 4912. Considering the scale of production revenues, other sources of income have been explored, which include distilling rum and gin for third-party labels, and the holding company also operates as importer for other brands into Switzerland, the renowned Hart Bros. of Scotland is one of theirs. They also entered into business with inventor Dr Dolf Stockhausen to produce and release an innovative, speed-matured range of whiskies under the Seven Seals label.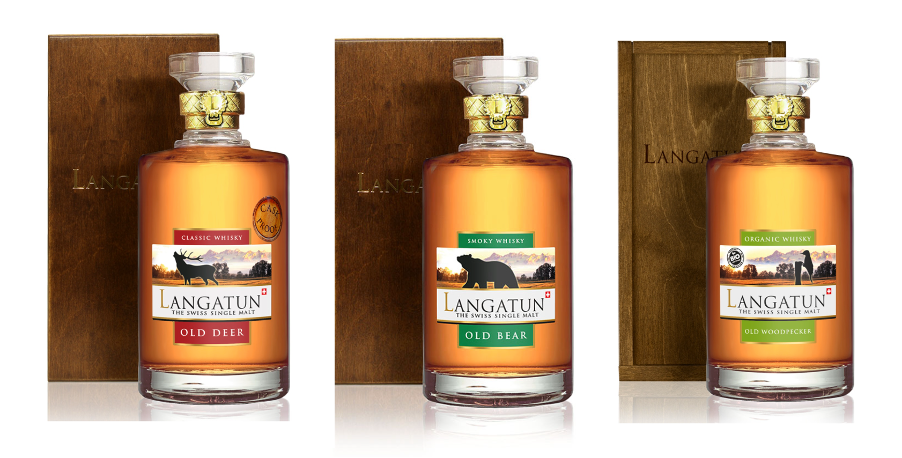 A quick glance at the labels and you might notice the predominance of animal species in the names of Langatun whiskies – Old Bear, is a nod to the bear on the coat of arms of Canton Berne, there's Old Woodpecker (I used that at Dublin Whiskey Live in a blind tasting the other year and surprisingly no one guessed it), and Old Crow, among others. The first of them was Old Deer, so called, apparently, because Hans I was asked by his friends who he was making whisky for, and he replied that he was making it for you, my 'alte Hirschen' – old deers/old dears.
See the video of my visit to Langatun Distillery: https://youtu.be/4fAnjvjNq3w